Why I Hate New York City But Will Always Come Back Anyway!
First of all and before you scream and yell at me, "what the heck is wrong with that girl! New York is such a stunning city"! No worries, I agree! Yes, it is! I won´t say anything against it. Of course, it´s an incredible city because of so many reasons! Nevertheless, there are also many reasons why I hate New York City!
*There is a pretty good chance that this post contains affiliate links. With clicking one of them, we may receive a small commission (for which we are deeply grateful) at no extra cost to you. See our Privacy Policy for full details.
Why I never fell in love with New York City!
Well, why I hate New York City? There are quite a few reasons, why I don´t like it that much! And I know at least two more people who agree with me so I might be not too wrong about it… *wink wink*
Pin for later!
But first things first, New York never was on any of my bucket lists. When I thought about traveling, New York was always one of the least destinations I wanted to visit. It never was an attractive location for me.
Everything I knew about New York, what I heard, and what I saw in more or less famous movies, left a negative association in my mind. Only a few things made it to my list of things I wanted to see once in my life.
What I really want to experience in NYC
For instance, "Home Alone 2", made me want to visit New York because suddenly I wanted to see this big and famous Christmas Tree at the Rockefeller Center. 
Series like "The Bill Cosby Show" made me want to see Brooklyn, and of course, all those Instagram posts made me want to see and walk the Brooklyn Bridge. 
Because one of my favorite Wrestler (yes, I´m a Wrestling fanatic, too!) was involved in a "Coney Island Street Fight," I wanted to visit Coney Island. 
And of course, with my obsession to find all Statues of Liberty, I had to see the Original and her little sisters (here you can read my article about New York´s Replicas of the Statue of Liberty and where to find them!)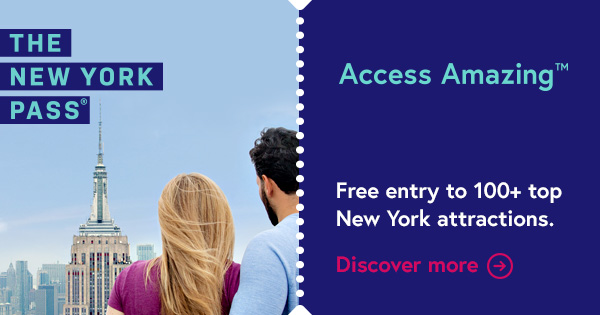 Reasons why I hate New York City
But all those things are more about the sights itself and not necessarily about the city. I´m more interested in the state of New York and less in the City.
And my previous trips to NYC showed me that my first feelings were right. Although, I saw and did a lot of cool things, and so far, I did pretty good with fulfilling my wishes about what I wanted to see, do, and eat, but somehow I never fell in love with the New York City. Not in the way, as I fell in love with locations like New Orleans, Long Island, or the New England States, and many other amazing places!
But why is it?
The short answer is, it´s too much of everything!
1. There are too many people!
Too many, tourists, too many people who live and work there, too many of them and in a lot of cases there are just stressed out. Mainly, during rush hour times and in subways and subway stations. They´re rushing through the streets, and I always had the feeling that I´m standing in someone's way. I hate this feeling. When I´m on vacation I don´t want to be rushed by other people, Even in Central Park on a warm day it´s hard to find a place where are fewer people
2. There is too much traffic!
Too many cars, especially, in Manhattan! Once I drove by myself from Montauk to Newburgh, which was quite a nice trip. Mainly because of the quiet and almost empty roads in Long Island, and later the Indian Summer-like colorful leaves and forests alongside the Hudson River Valley.
The only part, which almost ruined this experience was my stop in NYC. I wanted to see Central Park in its fall colors, and as I had to pass New York City anyway, I thought it would be a good idea to combine it. Two birds with one stone, going to Newburgh and visiting Central Park. Ha,… How wrong was I! It was both, pretty cool because Central Park during fall foliage is just a magical experience, and totally stupid, because going into, through, and out of Manhattan, took me as much time as the rest of the entire drive and it costs me so many nerves, that the relaxation I generated the past week in Montauk, was utterly gone afterward.
Therefore, for my next stay in the City, I didn´t rent a car and got around via public transportation. However, this traffic in and around the city stressed me out anyway. The streets were always full; the cars continuously were honking because anything couldn´t go fast enough. They changed the lanes how they wanted without taking care of anyone else. As long as they got what they wanted and where they wanted to go. It was nuts. Driving times are always doubled or even tripled for a distance of two miles. That is the biggest reason why I hate New York!
3. The distances are too long!
Just for example, on my last trip to NYC, I stayed in a neighborhood of Brooklyn*. I thought it would be a good idea. It was cheaper than Manhattan, it had a subway station straight next to the door, and of course, I thought if I stay in Brooklyn, I could walk to the most sights in Brooklyn.
Once again, I was wrong. The neighborhood itself was pretty cool, and you could do a lot of things, like doing a street art tour, or pub crawls, or eat yourself around the restaurants. For two or three days, this would have been perfect, and I can recommend staying here.
But I was there for ten days, with things I wanted to do and see all over the city. So, I always had to use the subway to go to another neighborhood and explore there. If you love to walk and don´t have an issue with walking at least 40-60 minutes to the next attraction, this might not be a big thing for you. But if you´ll walk the rest of the day anyway, I thought, going by subway and explore there would be the better decision.
Well, every time I wanted to go somewhere else, I took the subway and stayed in there at least 40 minutes, sometimes I went 30 minutes into Manhattan only to change to another train which brought me to another Brooklyn location in another 20 minutes. So, I spent about two hours a day on the subway and subway stations. Is that the definition of an enjoyable and relaxing vacation? I don´t think so!
What does it do with me?
During the past years, I found out about myself quite a few things, one of it is that I´m probably a high-sensitive person and with the mentioned causes above, I quickly feel overwhelmed and want to stay in places which are quiet and ideally lonely. Things like the above stress me out, and I cannot relax and even enjoy.
That´s why my latest New York trip was both; I loved it so much because I could do the things I wanted to do. See some of the sights I always wanted to see. And I was pretty surprised and impressed by the food scene (I loved the Street Food Festivals like Smorgasburg, and the food halls at DeKalb Ave and Chelsea Market! It´s indeed a paradise for food lovers!)
Nevertheless, it wasn´t a real vacation for me! When I returned to work, I was more stressed than before! So, I´m very excited that my next journey will lead me to Alaska. I hope, there will be a lot of places which are everything but too much (maybe too much beauty, landscapes, and wildlife but these are things, I can comfortably live with *wink*)
Why I always will come back to New York City?
However, the City didn´t manage getting rid of me. I´ll come back for sure. Not necessarily for an entire vacation trip but for a weekend or a stopover? Why not? I could deal with too much traffic or too many people for a few days. And when I stay in the area which I like to explore, I won´t have any issues with the distance.
Pin me!
So, why not? It won´t be the love of my life, but maybe it could be something like a good friendship. You´re excited about things you love about a friend, but you´re seldom together long enough that the things which drive you crazy can destroy your friendship.
Now it´s your turn, tell me why you love or hate New York City! Can you relate? Leave me your "Why" right here in the comments!